ACT Expo brings the entire clean transportation sector together in Southern California for a week of peer-to-peer information exchange and valuable business meetings.
93% United States Attendees Highest levels of representation: California, Texas, Ohio, Michigan, Illinois, Wisconsin, District of Columbia, New York, New Jersey, South Carolina, Colorado, Pennsylvania, Utah, Georgia, Washington, Arizona, Florida, Indiana, Oklahoma, Massachusetts, Minnesota, Oregon, Virginia, Connecticut, North Carolina, Maryland, Iowa, Nevada, Tennessee, Missouri, Kansas, Nebraska, Alabama, Delaware, North Dakota, Rhode Island, West Virgina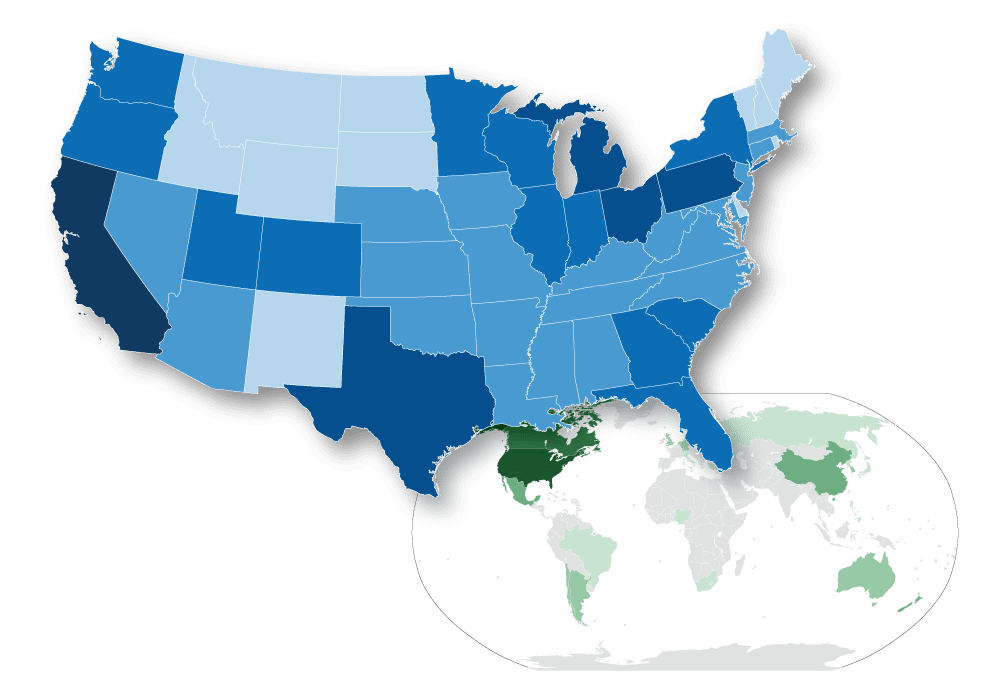 7% International Attendees Highest levels of representation: Canada, China, Mexico, Sweden, Italy, Germany, Turkey, Poland, South Korea, Chile, Argentina, Brazil, Israel, New Zealand, United Kingdom, Belgium, Colombia, France, Netherlands, Russian Federation
5000+ Registered Attendees
Tier 1-2 Industry Suppliers
Light, Medium, Heavy Duty Vehicle OEMs
Fuel Suppliers
Funding Agencies
Regulators
Transportation Stakeholders
EV Charging Suppliers
Energy Storage Providers
Commercial Electric Vehicles
Energy Storage Infrastructure Developers
Vehicle Efficiency Solution Providers
Gaseous Alternative Fuel Suppliers
Connected, AI, Automation Providers
And more!
1000+ Fleet Operators
Government
Commercial Truck Work
Ground Transportation
Drayage & Ports
Line Haul Trucking
Utilities
Municipalities
Refuse
Construction
Distribution
School Bus
Transit
And more!
Get To Know Our Fleet Attendees
Total Annual Commercial Vehicle and Equipment Purchases
Number of Fleet Vehicles Managed
Organizations That Attend Include:
ABInbev
AC Transit
Airgas
AJR Trucking
Albertsons
Amazon
American AutoTruck Logistics
American Honda Motor Company
American Pacific
AmeriPride Services
Anheuser-Busch
Aramark
ARI Fleet Management
Athens Services
Bimbo Bakeries
C&S Wholesale Grocers
CalPortland Company
Caltrans
CarPark
CEVA Logistics
City & County of San Francisco
City of Los Angeles
City of New Haven, CT
City of Orlando
City of Seattle
Clovis Unified School District
Comcast
CR&R Environmental Services
Dependable Highway Express
DHL
Dillon Logistics
El Metate Foods
FedEx
Fenix Marine Services
Frito-Lay
J&M Sanitation
J.B. Hunt
King County Metro
Kroger
Matheson Trucking
Mountain View School District
MVT Solutions
National Ready Mix
NationaLease
NBCUniversal
Nestle
New York City Department of Sanitation
NFI Industries
Orange County Transportation Authority
Pacifica Trucks
Penske Truck Leasing
PepsiCo
Port of Long Beach
Port of Seattle
Port of Stockton
Ruan Transportation Management Systems
Ryder System
San Diego Airport Parking Company
Santa Monica-Malibu Unified School District
Schneider National
Shamrock Foods
Sheehy Mail Contractors
Sony Pictures Entertainment
Southwest Allen County Schools
Stark Area Regional Transit Authority
StarLine Tours
SunLine Transit Agency
Sutton Leasing
Sysco
The Kroger Co
The Port Authority of NY & NJ
Total Transportation Services
Twin Rivers Unified School District
Uber
United Airlines
United Parcel Service
United States Postal Service
University of California, Los Angeles
UPS
Valley Transit
Veritable Vegetable
Wally Park
Walmart
Warner Brothers Studios
Waste Management
Werner Enterprises
7-Eleven
A Tow
ABInbev
AC Transit
ACCO Engineered Systems
ACE Parking
Admiral Merchants
AFC Logistics
Air Fayre
Airgas
Airport Mobil Towing
Airport Terminal Management – LAX
AJR Trucking
Akins Motors
Alabama A&M University
Alan Ritchey
Albertsons
Alisto Engineering Group
Amazon
Ameramex International
American AutoTruck Logistics
American Honda Motor Company
American Pacific
American Textile Maintenance Company
AmeriPride Services
Amphitheater Public Schools
Anaheim Elementary School District
Anheuser-Busch
Animo
Antelope Valley Transit Authority
Aramark
Arca Continental
ARI Fleet Management
Arvig
Athan
Athens Services
Beard Electric EV
Best Transportation
Bethel School District
BG Trucking
Big 5 Sporting Goods
Big Truck Rental
BikeHub
Bimbo Bakeries
BNSF Railway
Bragg Companies
Brawley Elementary School District
Breathe California Sacramento Region
Brill
Bryn Mawr College
Bureau of Reclamation
C&J Energy Services
C&S Wholesale Grocers
Cache County School District
Cal EV Rentals
California Cartage
California Department of General Services
California Department of Transportation
California Earth Transport
California Recyclers
California State University, Los Angeles
CalPortland Company
Caltrans
Canada Post
CarMax
Carolina Trucking
CarPark
Cathie Leigh
CCU
Cerritos College
CEVA Logistics
Chapman University
Charlies Produce
Chilexpress
Chumash Casino Resort
City & County of San Francisco
City of Anaheim
City of Arcadia
City of Auburn
City of Austin, Fleet Services
City of Avalon
City of Brentwood
City of Burbank, Water and Power
City of Claremont
City of Culver City
City of Duarte
City of Dublin, Ohio
City of Fontana
City of Glendale
City of Hermosa Beach
City of Kirkland
City of La Verne
City of Laguna Beach
City of Lancaster
City of Long Beach
City of Los Angeles
City of Malibu
City of Montebello
City of Monterey Park
City of Mountain View
City of Naperville
City of New Haven, CT
City of Norwalk
City of Orlando
City of Pasadena
City of Philadelphia, Fleet Management
City of Pomona
City of Rancho Cucamonga
City of Redondo Beach
City of Riverside
City of Santa Ana
City of Santa Clarita
City of Santa Monica
City of Seattle
City of South Pasadena
City of Thousand Oaks
City of Torrance
City of Upland
City of Whittier
Clean Transport
Clovis Unified School District
CNK Transport
Coachwest Transportation
Coca Cola Chilen
Collin County
Comcast
Community Resource Project
Consolidated Edison Company of New York
Continental Vending
County of Alameda, General Services Agency
County of Kern
County of Los Angeles
County of Orange
County of Santa Barbara
County of Santa Clara
Covenant Transport Services
CPS Express
CR&R Environmental Services
Cryogenic Transportation
D & D Wholesale Distributors Inc
Day & Ross
DC DPW
Debris Box
Department of Transportation – Caltrans
Department of Transportation Division of Equipment
Dependable Highway Express
Dependable Supply Chain Services
DHL
Dickinson Fleet Services
Dillon Logistics
DND Canada
Dominion Energy Western Gas Distribution
Dot Foods
Downey Unified School District
DSG Wagenparkbeheer
DTE Energy
El Metate Foods
Entergy
Enterprise Fleet Management
Envoy Technologies
EPL Express
Everport Terminal Services
Fairplex
Fast Lane Transportation
FedEx
Feeder Logistics
Fenix Marine Services
First Group America
First Transit
Five Rivers Cattle Feeding
Fleet Leasing
Flying Food Group
FortisBC
Frito-Lay
GardaWorld
Garden Grove Unified School District
Gasco
Gazelle Transportation
Genentech
Goforth & Marti Business Interiors
Golden Empire Transit District
Golden Rain Foundation
Gothic Landscape Maintenance
Grimmway Farms
Hacor
Hamre Equipment
Harris Ranch
Hartsfield-Jackson Atlanta International Airport
Hawaii Gas
Heritage Environmental Services
Hermosa Beach Police Department
Holliday Rock
Huddleston Property Management
Ibis Tek
Idaho National Laboratory
Imperial Irrigation District
In Motion Logistics
Intrade Industries
J&M Sanitation
J.B. Hunt
Jet Propulsion Laboratory
Johnson County, KS
K&I Services
KALM Transport
Karhof Carrosserieen
KG Architects
King County Metro
Kroger
L.A. Prep
Lane Transit District
Level 4 Transport
Linkture
Loblaw
Locate in Limburg
Long Beach City College
Long Beach Transit
Longobart-Ross Consulting
Los Angeles County
Los Angeles Department of Water and Power
Los Angeles Police Department
Los Angeles Trade Technical College
Los Angeles Unified School District
Los Angeles World Airports
Marco Transport
Martin Brower
Matheson Trucking
MC Electrics
MDB Transportation
Mendocino Forest Products
Mercury Transport
Metbus
Metropolitan Water District of Southern California
Minuteman Transport
Mobile Area Water And Sewer System
Montebello Bus Lines
Monterey Bay Air Resources District
Montreal Motorized Equipment Trade School
Morrow Meadow
Moulton Niguel Water District
Mountain Rides Transportation Authority
Mountain View School District
MVT Solutions
National Ready Mix
NationaLease
NBCUniversal
Nestle
New York City Department of Sanitation
New York City Department of Transportation
New York University
NFI Industries
NGL Logistics
Northwest Seaport Alliance
Novus Wood Group
Ocean View School District
Oceanside Unified School DIstrict
Office Solutions
OHK Transport
Olathe Ford Lincoln
Online Trucking Logistics
Orange County Transportation Authority
Pacific Coast Fruit Company
Pacific Gas & Electric
Pacific Material Handling Solutions
Pacifica Trucks
Patriot Environmental
Penske Truck Leasing
PepsiCo
Performance Food Group
Performance Team
Pittbsurg Unified School District
PLM Trailer Leasing
Port of Long Beach
Port of Seattle
Port of Stockton
Portland General Electric
Potelco
Prodeca
Progressive Transportation Services
Prudential Overall Supply
Quality Transport / Truck-Rail Handling
Refrigerated Logistics Consulting
Rio Hondo College
RISE of the Jack O'Lanterns
Riverside County Transportation Dept.
Rocky Mountain Institute
Room and Board
Rotrans
RTS
Ruan Transportation Management Systems
Ryder System
Salmon Companies
San Bernardino County Fleet Management
San Diego Airport Parking Company
San Diego Gas & Electric
San Diego Metropolitan Transit System
San Francisco Department of the Environment
San Jose Water
Sanitation Districts of Los Angeles County
Santa Ana College
Santa Barbara Metropolitan Transit District
Santa Monica-Malibu Unified School District
Savage Services Corporation
Schneider National
Seattle Public Utilities
Shamrock Foods
Shark Shredding
Sheehy Mail Contractors
Sony Pictures Entertainment
South Jersey Gas
South Tulare Richgrove Refuse
Southern California Edison
Southland Transit
Southwest Allen County Schools
Southwest Transportation Agency
Specialty Transportation
SporTran
SSA Marine
Stark Area Regional Transit Authority
StarLine Tours
State of California, Department of Transportation
State of Maryland
Stater Bros
Stolt Trucking
Strathcona County
SunLine Transit Agency
Sutton Leasing
Sysco
Tacoma Public Utilities
TDM Transportes
Texas Department of Transportation
The Kroger Co
The Martin-Brower Company
The Metropolitan Water District of Southern California
The Port Authority of NY & NJ
Three Way Logistics
TLN
Total Transportation Services
Traffic Management
Transdev
Transervice
Transport Jaguar International
Transportation Authority of Marin
Tri-Modal Transportation Services
Truk-King Logistics
TuSimple
Twin Rivers Unified School District
Tyreman Group
U.S. General Services Administration
Uber
Ultimate Pacific Corp
United Airlines
United Parcel Service
United States Postal Service
University of California, Irvine
University of California, Los Angeles
University of California, San Diego
University of California, San Francisco
University of Southern California
UOK Transportation
UPS
Ursa Logisitcs
US Logistics
Utah Department of Transportation
Valid Manufacturing
Valley Transit
Vehicare
VehiCare Fleet Solutions
Veritable Vegetable
Victor Valley Transit Authority
Virginia Department of Transportation
Wagner Motors
Wally Park
Walmart
Warner Brothers Studios
Washington State Department of Enterprise Services
Waste Management
Waste Resources
Werner Enterprises
West Chester University, Pennsylvania
West Covina Unified School District
Western Milling
Wismettac Asian Foods
Wylie Dynamics
Yolo County Transportation District
Zeem Solutions
Zoox
Zume